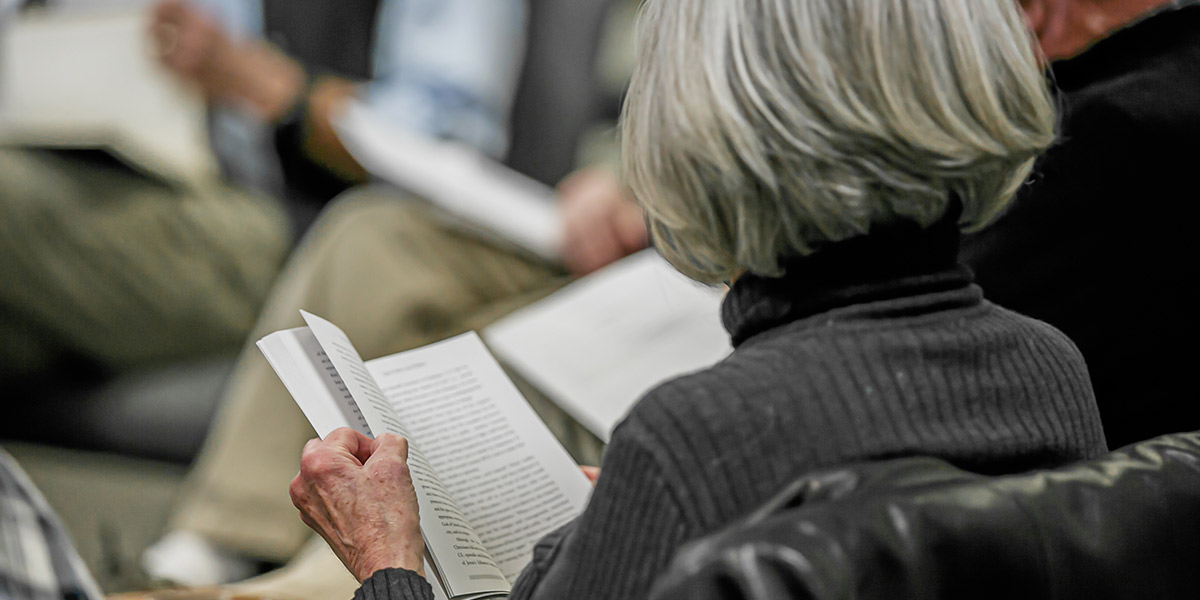 How are they to believe in one of whom they have never heard? And how are they to hear without someone to proclaim him? And how are they to proclaim him unless they are sent? As it is written, 'How beautiful are the feet of those who bring good news!'
Romans 10:14-15
From Sunday School classes to Small Groups, our adult ministry provides ways to belong to a community that inspires, informs, and encourages one another.
Ways to Serve in the Adult Ministry
If you are looking for ways to come alongside others in their commitment to follow Jesus and nurture, educate, and disciple them, then you will find your place in the Adult ministry.
Small Groups
Nearly 600 men and women belong to Eastminster's 60 Small Groups. Weekly, Small Groups study God's Word, pray for one another, and serve the community. There are several types of Small Groups to join: Women's, Men's, Couples, or Mixed (for men/women any age). Led by member volunteers, each Small Group selects the day/time/location that suits their members' schedules best.
Sunday School
SUNDAY SCHOOL BEGINS AT 10AM
Fireside Class
This is a group of mixed ages, both single and married with and without kids. Teaching responsibilities are shared between the two leaders, and occasionally class members, in a mix of lecture and discussion. The class also has outside social activities. Location: Christian Education Building, Room 353.
Hope and Joy Class
This is a mix of single and married people ranging in age from late 30's to late 50's, but all ages are welcome! This group grows spiritually through group discussion and lively teaching, which is shared among a team of teachers. Part of the class name reflects its seeking to serve "Jesus first, others next, yourself last." Location: Christian Life Center, Rooms 269 & 271.
Ichthus/Disciples
This class is ideal for individuals and couples who want to study the Bible in a small class setting. The class is dedicated to Bible study and discussion. For more than 25 years, the class project has been the support of scholarships for students at Bethel Evangelical Secondary School (BESS) in Dembi Dollo, Ethiopia. Location: Christian Education Building, Room 355.
Gift Class
This class is mostly couples in their mid to late 30's with young children ranging from toddlers through elementary school. Join this group and grow in faith together! The Gift Class enjoys discussing the lesson after the teacher has presented it. Along with meeting together on Sunday mornings, this class enjoys occasional social gatherings and service projects. Location: Christian Life Center, Rooms 273 & 275.
Grace Class
This is a class for young adults and other unaffiliated adults of every age who want to think hard about their faith, be challenged by the Bible, and examine God's purpose in the world and their place in it. Location: Christian Education Building, Room 259.
Young Adult Bible Study
This class is for young adults with and without young children but is open to anyone who would like to come and learn. Young Adult Bible Study meets on Monday from 7pm – 8:30pm. Location: Eastminster.
Sparrows Class
A sense of shared community is key to the Sparrows class. This class studies, reads, prays, shares, laughs, and sometimes sheds a sympathizing tear. Come join this evolving group of Sparrows! All are welcome. Location: Christian Education Building, Room 357.
Solid Rock
This class is comprised of individuals and couples who prefer a smaller class setting. This class grows in the Spirit consistently with its Reformed tradition through study of the Bible, music, art, and social time together. Location: Christian Education Building, Room 358.
Spiritual Discoveries
This class ranges from age 40 and up, but all ages and new members are welcome. This is a lively group with class-led discussion being a key part of their time together. Join this class to study and grow through conversations with each other. Location: Christian Education Building, Room 351.
Ted Haigler Class
This class is ideal for men of all ages who desire a traditional Sunday School format in a smaller setting with ample time given for discussion questions. Location: Christian Education Building, Room 352.